Moderator: LoachForumModerators
I just received 4 S. berdmorei from WetSpot this morning. They are approx. 4-4 1/2". The ones I ordered a few months ago were about 2 1/2". Just wanted to let everyone know in case anyone is interested in some that are a nice size. Mine have been acclimated to the tank and have colored up nicely and are out with the other loaches (Y. modesta). I fed the tank some frozen food and they ate well.
---
Please post some photos of your Berdmorei
They are one of my favourite loaches

Zenin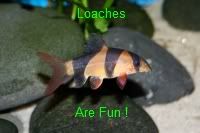 ---
Ok, I sure will. I've got to take some pics of the newbies though.
---
Who is online
Users browsing this forum: Google [Bot] and 41 guests