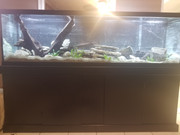 Here ya go, i present to you 125 gallons of loachtopia!!
About to add ammononia and Dr. Tims One and Only.
The wife added the black trash bags to the back, after me being indecisive about painting the back. It looks good. Turned on both the filters (110 aquaclear) but will lower them and add foam prefilters tomorrow. Added Seachem Prime at the appropriate quantity.
Filled the tank with my python, gotta admit its awesome.
This picture does not do the tank justice! Thank you all so much for your suggestions, i trust you'll see it here