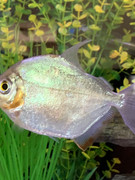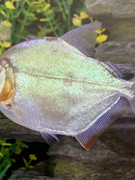 I can't believe the nearly complete healing of the silver dollar. Giving kudos to us both! Always out and about as if nothing happened. Really happy.
The remaining and only teensy hangs out with the big guys so I'm going to let things be with that. Three is not ideal but they all look good and the teensy has grown more. I compare it to the largest oldest cherry barb female I have and they're nearly the same size now.
Last water change I did was the 31st though I check parameters between wc. Interestingly, the TDS was up a couple points from last reading (144 to 146) and nitrate was at 10. Feedings have been regular. So I don't know what's going on but I like it. The KH is down to 1.5 so I will add a teaspoon of baking soda.
One other little thing. One of the teachers had a goldfish living in a mason jar. He brought it to school, and I looked at the gills and they were very red, because number one it's living in non-dechlorinated water and two, it lives in its own ammonia although he says he did change the water every day. So to make a long story short I brought in a 10 gallon tank with filter and everything. I checked the water parameters of the tap at school, and don't you think the KH is perfect between three and four! It figures!
That's the latest!