... my Alpha-clown was on woodfloor for a while - no trace of any moisture left - neither on my baby, nor on the floor - after 2days seeking shelter she seems ok now...
I was wondering wether, there are "fish-first-aid" instructions anywhere, I would study them, after this experience...
I can´t help writing the entire "retake", as I was quite distressed about me doing that to her

I was cheking the tank, as I got an important call, I headed to the computer and forgot to close the lid (need to point out, since I stepped on a shrimp that jumped, I am very pedantic about closing the lid), as I entered the room again - hours later(!) - I could not believe to see her in the middle of the room - oh boy! She was darker then under water, her skin was dry like rubber, but eyes still clear. She almost stick to the woodfloor when picking her up, I needed to take good care to get her off the floor. She is about 12cm TL.
I had not much hope, but as I unwrapped some long hair, that she was tangled in, she made a short jerk. When I put her head under water - no reaction - sh...t. I pulled her tail, hoping I get some water backwards into the gils that way. That helped, she started moving her mouth just a tiny little bit, she did not really breath yet... so as gentle as I could I kept doing the movement, pulling on her tail backwards hoping to be floating the gills. When her movement became sort of like breathing but much smaller, I let her go. She staid head down in a plant without any movement, but she startet to do more breathing like movements... I switched on the lights (I have 4.5 hours "lunchbreak" which the fish typically enjoy, but now I need to make sure oxygen gets produced) she managed to turn to the side (picture below). I stopped Co2 supply and made a very small waterchange with some cold water, which I let pour from the showerhead high up into the pot, so it absorbs some O2. Typically I don´t worry about O2, but with perhaps only a percentage of functioning gills, I wanted to make sure. I might not have done everything perfect, but she started to get better stayd a moment at the filter inlets and than moved into the catfish´s cave, not her own.
I offered a bit later some dry food as well as some Bloodworms. I think she took a small bite even. I did that, because I checked the floor again for any stains, and found looking with the head close to the lacquered surface that an area of about 2´ x 1´ was showing shiny spots. So I could follow up on her travel-path on the floor. Thy shiny sopts were the same as the spot I picked her up from. She must have been fighting hard and for a long time, so I gues her "fuel" must have been low. Her tail-fin was worn out quite a bit, looking like an old broom. I added a good portion of fish-vitamins to the water.
The other 2 clowns were rather relaxed showing themself outside when I put her back. But soon they noticed something very wrong and were hiding the rest of the day. Also the other 2 did not come out for food - which is typically never ghas happened before. He, staid with her in the Cat´s cave, kind of staying above her. THe catfish was not happy and did his vibrating thing a couple of times (sounds like an underwater shaver), but accepted them after a while. THe other female stayd in the coconut. All of them just came out when the Alpha moved again. Now Alpha is eating again and even defending his Alpha postion again - I´m so glad.
Less glad I was about loosing the Sewellia male, he was getting quite well shaped and I was proud of that, as I bought him rather skinny (he showed an egde on his spine, but was behaving ok) So after I managed to get him nice and round, he had nothing better to do, than slowly retracting and getting calmer and calmer, took about 3 weeks. It was very sad seeing him sliding down the glass, when he could not hold himself anymore in postion...
What I wanted to say, actually, (sometimes I do come to the point

) I was happy that the the lower rank clowns left the hurt clown in peace. The second stronger Sewellia was not as gentle and kept bothering the male which was getting weaker... that was "not nice" however, the clowns male clown staid with the hurt one in the cave, there was no place for all three of them (In the clay cave would have been).
There have been only 2 fish with a name, a ancistrus-female called "Kurti" and one of the Sewellia-girls called "Centerline" now the Alphaclown is called "My Baby"

here a pic "MB" starting to breathe
Memories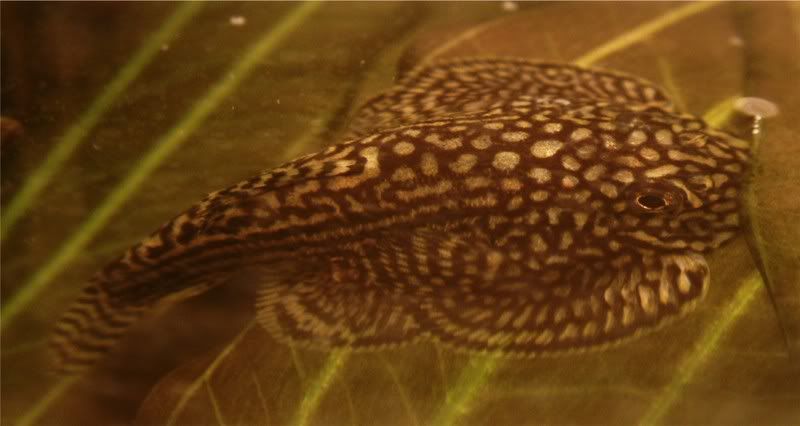 The good news is I´ve ordered a new small camera, the bad one, I will not clean the algae off the glass, neither will I use flash so close to the fish´s eyes... the algae I need for the Sewellia and Gobys...