My fish club puts on a yearly fish show at the Florida State Fair. This is really cool, because thousands of people get to see our fish and fish from around the community. They learn about the club, Tampa Bay Aquarium Society, and they learn about the hobby. Members hang out near the tanks to answer questions and promote the club. I have gone for years, and admired the fish and now I know a lot of the people who have the fish. That is really cool.

I am entering a tank this year, and thought I would post pictures of the progress. Unfortunately, I forgot my camera yesterday while I was setting up. My tank is a catfish and snail tank called "Cool Cats". I wanted to bring loaches, but I was afraid they wouldn't handle the fair environment well, because there are so many people. And I only brought in a 20 and most of my loaches are too big. Most of these catfish in the tank are juveniles. Oh my goodness, is it a lot of work getting setting up. They will be at the show for 17 days total, 11 of those days will be open to the public.
Getting Ready for the Show (Mine is second from the left)
More Preparations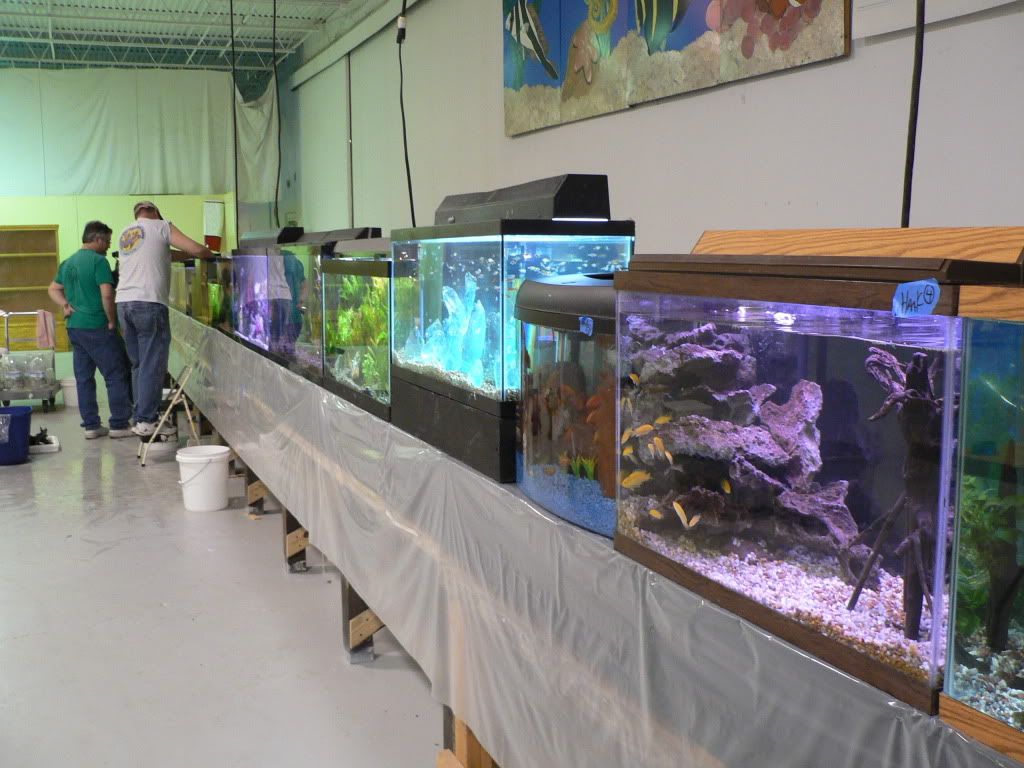 Getting Ready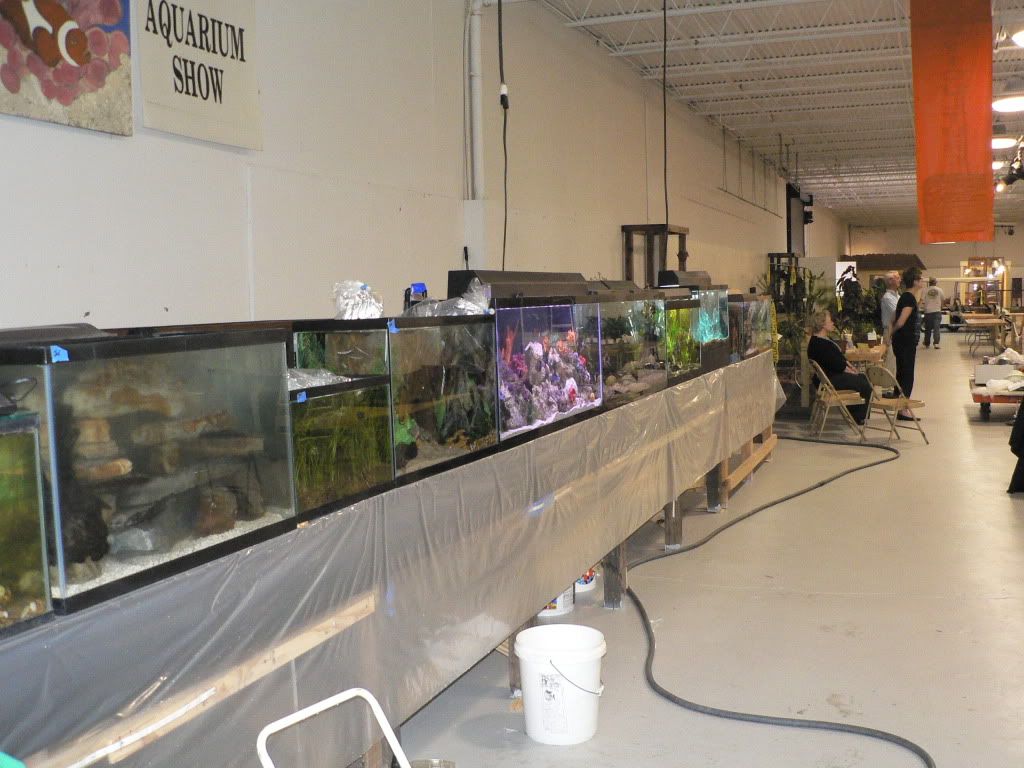 My tank is on the right. Next to Hank's tank on the left. His tanks are amazing, beautiful, well planted and he has a horde of happy, healthy fish that breed like crazy for him. Why am I next next to him?

I shove the plants in the ground and wait for the catfish to pull them up. Note all the river rock which is intended to be plant anchors. More than half of the picture got cut off when I uploaded it?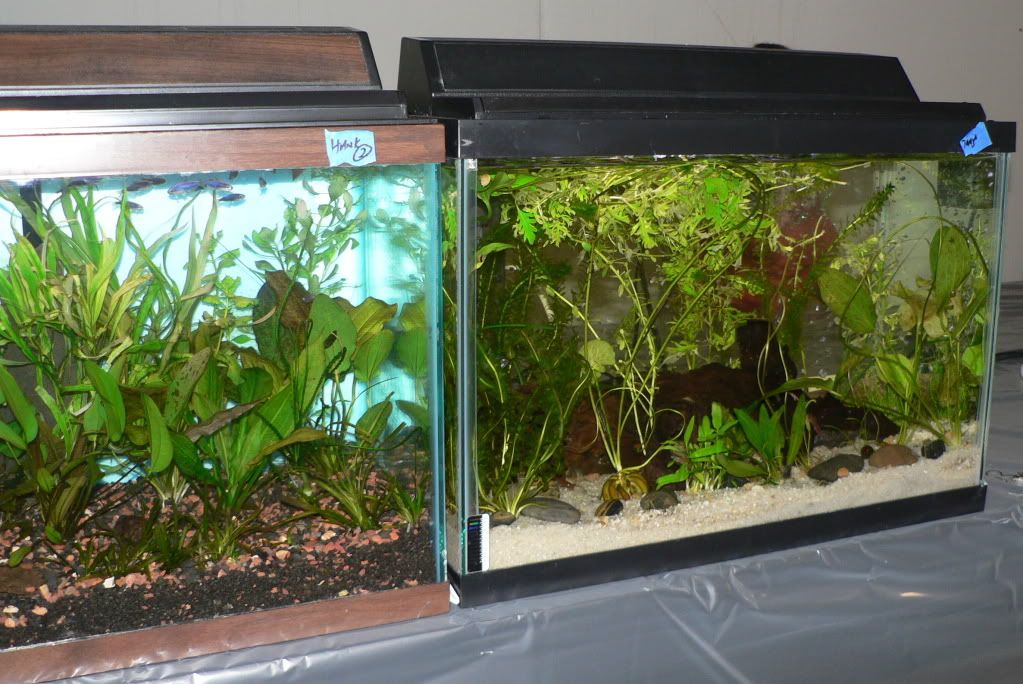 My Tank -- Cool Cats! How many catfish and snails do you see?

I see 3 of each in the picture. I hope people understand the purpose of the tank. The red lizards are really cool.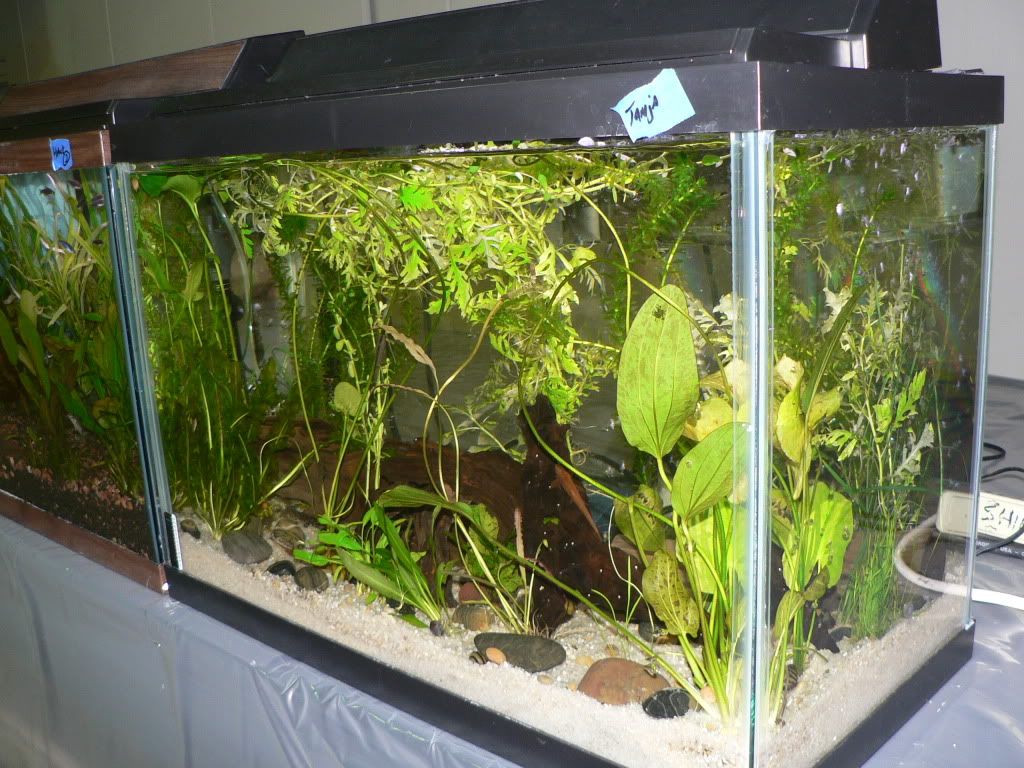 Here's what's in the tank.
5 C. sterbai (Sterbai Cory)
3 C. pygmaeus (Pygmy Cory)
1 A. adonis (3" Adonis Catfish)
2 Ancistrus (Bristlenose 3" female and 4" male mated pair)
1 Hoplo Cat (1.5" -- no idea the species)
2 Glass Cats (2.5")
5 Rineloricaria sp. (Red Lizard Catfish 2.5")
1 Peckoltia sp. (2.5")
3 Otociclus
1 Farlowela