Hello Loaches Online. Not too long ago I came across one of the threads here mentioning the possible availability of the Clouded Leopards....and I was fortunate enough to snag up a group that came into my work. I feel like I am operating with blinders on trying to ensure that I am giving them a good long term home and simply want advice on what you all think is the right/wrong direction.
I know they come from waters that are likely turbulent, and probably cooler. I've taken a 40 gallon breeder that has been around for quite a while, and reset it up special for these guys. I've got two working power-heads with sponge filters attached, a canister who's intake is on the opposite side(put purigen in the canister today). The sand is black, and I've got java ferns that have attached to wood to one side of the tank. The rest of the tank is slate/stones/larger smooth rocks. The back of the tank has a lot of green algae since the previous inhabitant was short tempered and didn't like water changes or me messing around in his water. Many of the slates sport algae. There is some thicker brush algae on some wood/plants. It seems like there should be more than enough for them to get a decent bite until they understand alternative foods. I'm trying to get them to learn that either Morning Wood Repashy, or Veggie Discs are good food.
I know I should probably try blanched vegetables but I'm at a loss at what to try first. Lastly, tank is sitting around 7.0 PH. I wish I knew what the usual PH is where they come from, but again kind of working with blinders on since there is not a whole lot of info out there. I've pulled the plug on the tanks heater, trying to lower the tank to house temp, which is around 74. I am assuming they require cooler water for higher oxygen temps. Advice? Thoughts?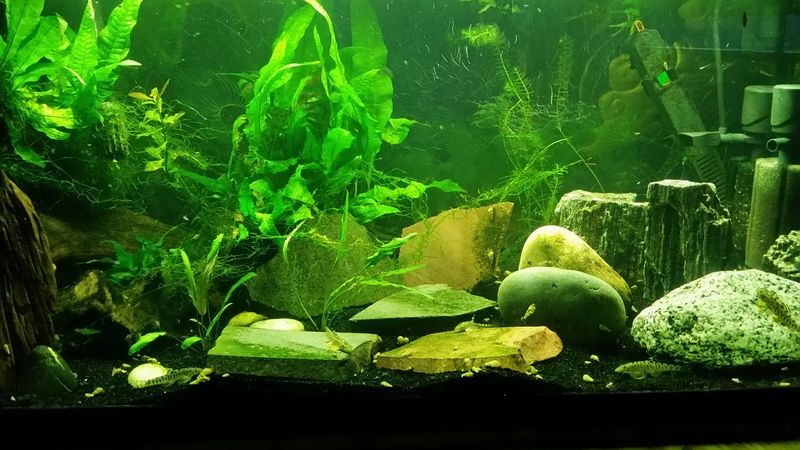 is a good over-all view of the tank. If in doubt I actually have this exact species:
]
I also have video up as well:
https://youtu.be/B4TeiiOe4qs
It is worth noting the store I work at we got/ordered 12. Of the twelve 3 died upon arrival, and a further one has also died. It seems like the process of being shipped was rough and they literally starved to death with bothers me greatly.